Private Charging Retail Study 2022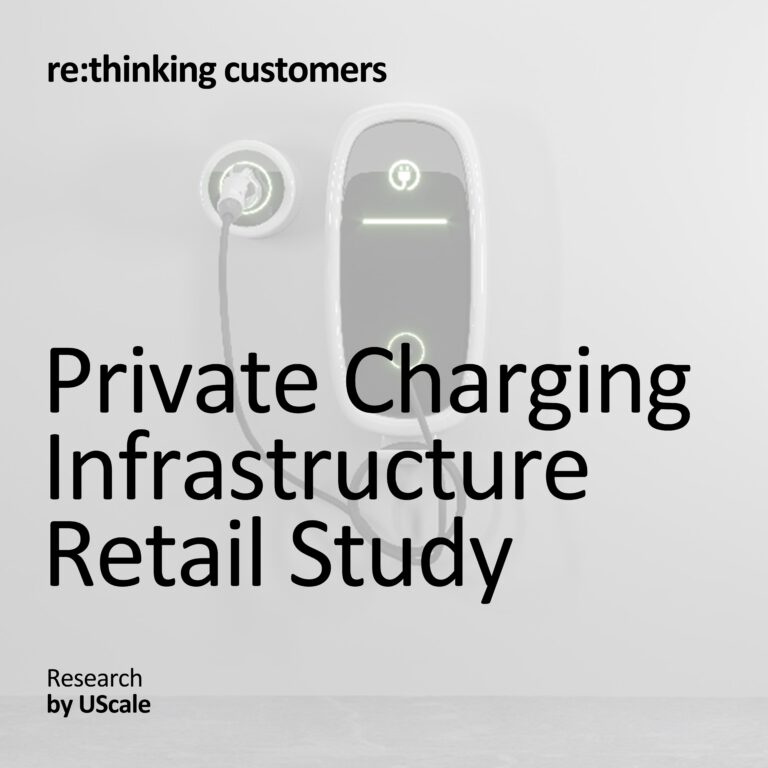 Information and service needs in the purchase process of private charging infrastructure
The study investigates the experiences of e-car buyers on the way to their private charging infrastructure solution. The survey focused on information and service needs in the pre-purchase and purchase process.
The Private Charging Retail Survey was conducted in April/May and July/August 2022 among 1,100 buyers, orderers and young owners of e-cars online in Germany, Austria and Switzerland.
Deliverables include a PDF report (ca. 60 pages).
Contents and Value Added of the Private Charging Retail Study
Content of the Private Charging Retail Study

Segmentation criteria:

Housing situation (multi-family houses vs. single-family homes, ownership ratio multi-family houses)
Driving habits (mileage per year and per weekday, frequency of long-distance journeys)
Company car

Information phase:

Buyer types
Satisfaction search process
Information needs (charging technology)
Sources of information
Sources of information Evaluation
First point of contact
Open information needs

Charging solution for multi-family houses:

Initiators charging solution multi-family houses
Charging technology sought
Capacity bottlenecks
Technical components multi-family houses
Communication interfaces
Billing and authorisation
Authorisation type
Implementation
Strongest barriers charging solution multi-family houses

Charging solution for a single-family home:

Charging technology sought
Technical components single-family home
Communication interfaces
Providers involved
Prioritisation Stakeholders
Decision criteria
Implementation
Strongest barriers Charging solution single-family home
Recommendations (craftsmen, manufacturers of charging technology, energy suppliers, vehicle manufacturers)
Target group of the survey

For the study, buyers, purchasers and young owners (holding period less than 12 months) of fully battery electric cars were surveyed. The total of 1,100 respondents was divided into 800 residents of single-family homes and 300 male residents of multi-family houses.
Added value and benefits for manufacturers and resellers of private charging infrastructure and energy suppliers

The study is mainly aimed at manufacturers and resellers of private charging infrastructure.

The study shows which questions e-car buyers and owners have when looking for the right charging infrastructure for their homes and which products and services they are looking for.

The data show providers,

which information must be offered on which channels.
which products with which features have the greatest sales opportunities with female EFH residents.
who the most successful providers are, against whom they must be competitive.
what solutions MFH residents are looking for and what support they need.

In addition, the study provides project developers and energy suppliers with wishes and experiences of current female buyers as to which offers need to be developed and installed with particular urgency.
UScale focus studies: User studies on electromobility

Since 2018, UScale has been systematically surveying e-car drivers about their expectations and experiences at all touchpoints of the e-mobile customer journey. An overview with all UScale Focus Studies can be found HERE.

If you have any questions, please contact us at contact@uscale.digital.