Electric vehicle Retail Study 2023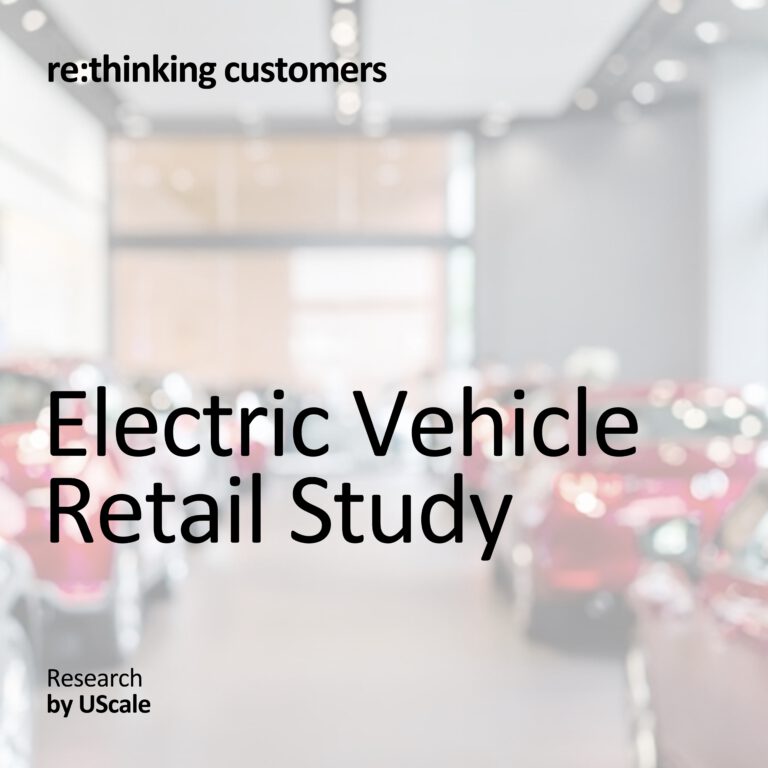 EXPECTATIONS AND EXPERIENCES IN THE CAR BUYING PROCESS
The study surveys the expectations and experiences of e-car buyers during the information period, the purchase phase and the post-purchase phase. For this purpose, people in different steps of the purchase process were asked about their respective experiences.
The EV Retail Study was conducted online in April and May 2023 among more than 1,300 shoppers and 1,900 buyers and owners of an e-car in the DACH region (total sample: N = 3,255).
Deliverables include a PDF report (130 pages) and unlimited access to a dashboard for subscribers' own analysis of the data.
Contents and added value of the EV Retail Study
Contents of the EV Retail Study

Segmentation criteria:

Mileage per year
Company car
Demographics of e-car drivers
Motivation eMobility
Housing situation
Net household income
Usage patterns

Brand loyality:

Brand interest
Shopper: Intended loyalty
Owner: actual loyalty

Information phase:

Motivation for eMobility
Information needs on e-mobility in general and EV tech in detail
Interest in used cars, reasons for rejecting used cars
Interest in Chinese cars, reasons for interest and denial
Sources of information, evaluation of the information received
Websites: Visited manufacturer and retailer websites, rating of the websites, recommendations to manufacturers and retailers to improve the websites.

Purchase phase:

Dealer visits and events: visited dealers, number of dealer visits, evaluation of dealer visits, recommendations to dealers
Test drives: Test drives carried out, duration of test drives, test charging, evaluation of test drives, recommendations to dealers
Factors influencing vehicle choice
Configuration: desire for individualisation, willingness to choose e-car "off the shelve", evaluation of recommendations to manufacturers
Contracts: Conclusion of contract online / offline, financing, selected banks, insurance, interest in additional insurances, interest in further contracts, e.g. charging energy
Car subscription: reasons

Post-purchase phase:

Hand-over: Duration and content of hand-over, assessment of duration, remaining questions, evaluation of hand-over, recommendations to dealers
Follow-up: Needs, evaluation of follow-up, recommendations to manufacturers and dealers

Summary:

NPS brand dealer (purchase at dealer)
NPS brand dealer (purchase online)
Target group of the survey

E-car buyers were recruited in different phases of the information and purchase process and owners shortly after handover of the vehicle. Prospective buyers can give a particularly up-to-date assessment of their information needs and sources as well as their usefulness in the early phase. Buyers who have not yet signed a contract report on their experiences up to the time of the survey. So-called young owners have experiences about the entire retail process and the experiences and experiences are still well remembered.
Added value and benefit for e-car sales organisations and dealers

The study is mainly aimed at sales organisations of vehicle manufacturers or importers, car dealers and dealer developers.

The Electric Vehicle Retail Study provides KPIs for all relevant process steps in e-car retail. This makes the strengths and weaknesses of the respective brands clear. This enables sales organisations to evaluate and improve their own competitive position. The study shows those responsible in sales and marketing what information e-car buyers need in the purchase funnel. It helps subscribers to the study to define the requirements for the design of websites, configurators and sales processes at manufacturers and dealers. The data also form a qualified basis for the development or adaptation of dealer training to the needs of eMobility.
Dashboard for analysis

Many exciting findings only become apparent when the results are evaluated separately according to important customer groups. This allows providers to target their offers to different user segments in a differentiated way. Thanks to the high sample size, subscribers to the study can split the results in the interactive dashboard as they wish and analyse them in detail. In addition, the dashboard shows all pre-clustered verbatim mentions of the respondents.
UScale focus studies: User studies on electromobility

Since 2018, UScale has been systematically surveying e-car drivers about their expectations and experiences at all touchpoints of the e-mobile customer journey. The EV Retail Study has been conducted for the fourth time. An overview with all UScale Focus Studies can be found HERE.

If you have any questions, please contact us at contact@uscale.digital.