eMSP Loyalty Benchmarking Study 2023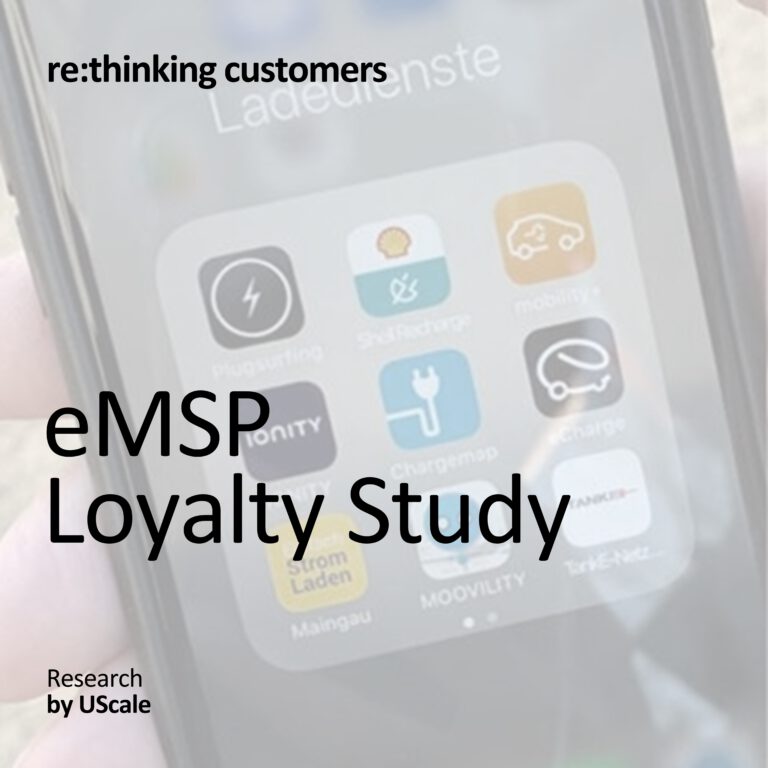 Market shares and reasons for use/churn of charging service providers, payment methods and potential for tariff development
The study surveys which CPO or eMSP charging services e-car drivers use and why. The results show the market shares of the provider groups and the most important eMobility service providers. In addition, it provides the key reasons for using the service and the top reasons for users to churn their most used provider.
A second focus is on payment methods and ways to further develop tariff systems.
The eMSP loyalty benchmarking study was conducted online in July 2023 with over 2,700 e-car drivers in the DACH region. A core of the survey was collected in August 2023 from 500 eAuto drivers in each of 6 other European markets (FR, UK, IT, ES, NL, NO). Similar surveys in the USA, China and the Arab Gulf States are currently in the field.
CONTENTS AND ADDED VALUE OF THE EMSP LOYALTY BENCHMARKING STUDY
Contents of the eMSP Loyalty Benchmarking Study

Segmentation criteria:

Vehicle (make, first registration, private vs. company car, employer contribution to charging costs)
Vehicle technology (AC/DC charging power, range)
Driving habits (mileage per year and per weekday, frequency of long-distance trips)
Charging behavior (charging locations, charging frequencies, charging preferences)
Demographics (age, gender, income)

Use of charging services:

Actively used (eMSP) charging services
Preferred charging services (derived from this: Market shares of the most important providers or provider groups national energy suppliers, municipal utilities, CPOs, roaming providers, OEMs, communities, retailers, employers).
History: Development of market shares of provider groups since 2020
Criteria for preferred use
Criteria for the use of non-preferred providers, i.e. reasons for using others than the preferred eMSP
Churn during the last 12 months, reasons for churn

CPO relevance:

General preference of CPOs
Attractiveness of the most important CPOs
Criteria for deciding which CPO to chose if possible

Feature use of charging apps:

Most important functions in a charging app
Interest in seeing the CPO of a charge point in a charging app or vehicle sat nav system

Payment and payment / authorisation methods:

Currently used vs. desired payment methods
Preferences for ad hoc payment options (Girocard/CC + PIN, Girocard/CC contactless, smartphone "wallet," QR code, via cell phone bill)
Differences between AC and DC charging
Satisfaction with payment (authorization and payment with P&C, RFID/card, charging app, ad-hoc, prices, price transparency, billing).
Comparative evaluation of the 5 main payment methods (Plug&Charge, RFID/card, charging app, Girocard/CC, smartphone wallet):

Advantages + most important advantage per payment method
Disadvantages + most important disadvantage per payment method

Public charging tariffs:

"Switching personality" (constantly / occasionally / never check or compare rates).
Tariff model used (with/without basic fee, flat rate…)
Variable tariffs: general interest (for deep dive see UScale Smart Charging Study)
Parking / blocking fees: general opinion

Tariff model charging at home:

Billing type
Use of own car tariff, reasons for non-use
Change of provider or tariff in the context of e-car acquisition

Media used:

Used sources of information on charging tariff offers
Used print car media
Used online car media
eMobility forums used
Communities: use of the &Charge bonus program
General attitude towards the community idea and feedback
Target group of the survey

Only owners and drivers of fully battery-electric e-cars were surveyed for the study. The average holding period of the respondents was 2 years. All respondents regularly charge in public spaces.
Value added and benefit for CPOs and all providers with an eMSP service

The study is mainly aimed at business developers, product managers and marketing experts at charge point operators (CPOs), providers of eMSP services and car manufacturers or importers with their own eMSP offering.

The study shows eMSP provider groups and large individual providers how their market share has developed. For each provider group, the study shows the most important reasons for use and when or why customers switch to another provider. This provides product managers with a qualified basis for developing or revising their own offers and tariff structures.
Dashboard for analysis

Many exciting findings only become apparent when the results are evaluated separately according to important customer groups. This allows providers to target their offers to different user segments in a differentiated way. Thanks to the high sample size, subscribers to the study can split the results in the interactive dashboard as they wish and analyse them in detail.
UScale focus studies: User studies on electromobility

Since 2018, UScale has been systematically surveying e-car drivers about their expectations and experiences at all touchpoints of the e-mobile customer journey. An overview with all UScale focus studies can be found HERE.

If you have any questions, please contact us at contact@uscale.digital.