ElectRIC Vehicle Benchmarking Study 2023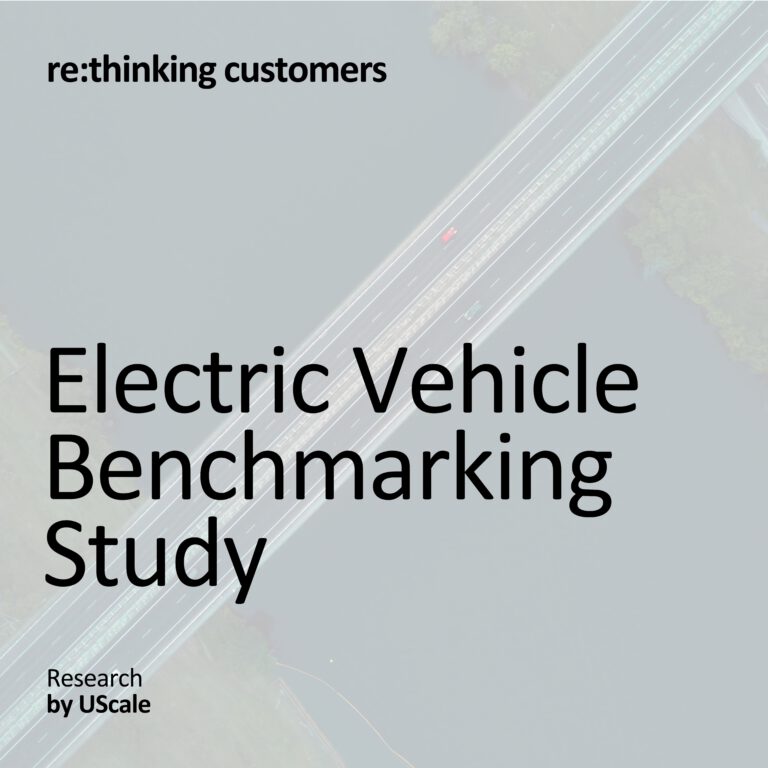 Usage habits, problems and concept maturity of EV-specific vehicle features
The study surveys usage habits, problems and the concept maturity of EV-specific features of the vehicles of e-car owners. At the end of each section, the respondents make recommendations to the development departments of their manufacturer.
The Electric Vehicle Benchmarking Study was conducted from May to June 2023 with over 4,500 e-car drivers online in the Germany, Austria and Switzerland.
The study is also conducted in Norway (N = 1,648). The UK survey is currently in the field phase and ready for delivery in September 2023 (N = 2,000). The survey is also planned for September 2023 to be fielded in France (N = 2,000).
Deliverables include a PDF report (approx. 160 pages) and unlimited access to a dashboard for subscribers' own analysis of the data.
Please also see our blog post on the 2022 results of the study HERE.
Contents and added value of the EV Benchmarking Study
Contents of the EV Benchmarking Study

Segmentation criteria:

Make, model, first registration
Motivation to switch to an e-car
Company car
Demographic characteristics
Net household income
Residences

Driving:

Mileage per year, frequency of long journeys
Actual summer range
Evaluation of target ranges
ECO modes (frequency of use, accepted restrictions through ECO modes, problems, concept maturity, recommendations)
Recuperation (adjustability, sensation (if not adjustable), used setting (if adjustable), problems, concept maturity, recommendations)
Driving and functional noises (types of disturbing noises, AVAS, concept maturity, recommendations)

Operating and display concept:

Required displays
Focus: required charging indicators
Problems with the operation
Concept maturity for prediction of remaining range, display of remaining range and SoC, charging display, energy monitor
Recommendations

Navigation:

Use of loading and route planning features
Problems
Concept maturity for route and charging planning, functionality, up-to-dateness, usability)
Recommendations

Connect app:

Use of the Connect app, reasons for non-use
Functions used
Problems
Concept maturity for installation, registration and updates, functionality, reliability, response times, operation
Recommendations

Charging:

Charging behaviour: charging locations, charging occasions
Current AC/DC charging power, evaluation of different AC/DC charging powers
Route and charging planning: systems used, preferred systems, problems, concept-ready route and charging planning, charging station search, recommendations
Thermal management: usage behaviour, problems, concept maturity, recommendations
Charging curve: awareness of own charging curve, usual termination at x% SoC, concept maturity
Charging settings: settings used, programming, problems, concept-ready charging settings
Charging monitoring and charging problems: Types of monitoring, concept maturity, suspected causes of charging problems, recommendations.
Stowage of charging cable: current stowage location, ideal stowage location, concept maturity for stowage of charging cable
Charging socket position: ideal position
HVAC: use of pre-conditioning, problems, concept maturity Pre-conditioning, heating and air-conditioning, recommendations

Overall ratings:

Net Promoter Score (NPS) own brand
Most important fields of action per brand
Target group of the survey

Drivers of fully battery electric e-cars were interviewed for the study. The average holding period of the respondents was 1 to 1.5 years. The respondents therefore had sufficient experience with the use of their vehicle and had become accustomed to its operation.

The DACH survey contains feedback on the most important premium brands Audi, BMW, Mercedes, Polestar, Porsche and Tesla in sufficient samples. Among the non-premium brands, there is a sufficient sample on Cupra, Dacia, Ford, Genesis, Honda, Hyundai, Kia, Mini, MG, Nissan, Opel, Peugeot, Renault, Skoda, Smart, Volvo und VW.
Added value and benefits for development departments at car manufacturers (OEMs), suppliers and development partners

The study is mainly aimed at the development departments of e-car manufacturers and importers, system suppliers and product managers. The study shows how e-car drivers use EV-specific features, how they would prefer to use them and which problems still need to be solved in daily use.

The Electric Vehicle Benchmarking study provides KPIs for all EV-specific product concepts and extensive descriptions of problems in use and recommendations to the development of vehicle concepts. There are still few standards for EV-specific features. The study shows the strengths and weaknesses of the different manufacturer concepts. This allows developers to adapt their specifications for future vehicle platforms and models. Product managers can understand which features users expect as basic factors, which are perceived as performance factors and which excite. This ensures that tight budgets only flow into features that users expect and value.
Dashboard for analysis

Many exciting findings only become apparent when the results are evaluated separately according to important customer groups. This allows providers to target their offers to different user segments in a differentiated way.

Thanks to the high sample size, subscribers to the study can split the results in the interactive dashboard as they wish and analyse them in detail. In addition, the dashboard shows over 20,000 pre-clustered verbatim mentions of the respondents.
UScale Fokusstudien: Nutzerstudien zur Elektromobilität

Since 2018, UScale has been systematically surveying e-car drivers about their expectations and experiences at all touchpoints of the e-mobile customer journey. An overview with all UScale Focus Studies can be found HERE.

If you have any questions, please contact us at contact@uscale.digital.